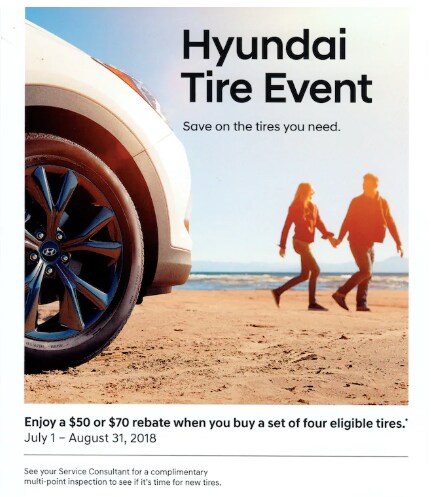 Through seasonal shifts and the terrain changes that consequently take place, your vehicle's tires may be getting worn out. Your tires will eventually need replacement, but there are ways to ensure they last as long as possible. Our Toledo Hyundai dealership has years of experience handling tire maintenance, so we've broken down how to help keep your vehicle rolling smoothly with a few tips.
Many people do not know the importance of getting routine tire checkups. Tire rotation allows for all of the tires to do some duty on the front end as well as get a break on the back end. It ensures that each tire wears evenly and lasts longer. Wheel balancing is just as important because there are heavy spots on tires and the wheel that cause vibrations and wobbling. Properly balanced wheels can improve driver safety, reduce tire wear, increase fuel efficiency and minimize steering wheel vibration leading to a smoother, more comfortable ride. You should also keep your tires inflated to the appropriate level listed in your owner's manual and check them for wear and tear; our expert technicians at our Hyundai service center would be happy to assist you with this step.
Take Advantage of the Hyundai Tire Event in Toledo
At our Toledo dealership, we continue to offer new service specials to keep you driving safely on the road with quality tires. Sometimes certain models come with tires that wear out more quickly, so it's important that you have an affordable option to replace them when it's necessary. Typically, the expectation for original equipment tires is they need to be replaced every 50,000 miles. However, a variety of vehicle owners report needing to change them at 20,000 miles. Take advantage of our Hyundai Tire Event today to save on the tires you need. If you've noticed steering issues or unusual vibrations, it might be time to replace them--don't drive on bad tires!
For more information on our Hyundai Tire Event, contact us at Taylor Hyundai of Toledo!